You may not know about National Hispanic Heritage Month yet. But, for some people, this can be called as the grant celebration which cannot be missed. Then, what is the Hispanic Heritage celebration and how to celebrate it? If you want to know the answer, absolutely you have to keep staying on this page.
Hispanic Heritage month is celebrated by American citizen from September 15 to October 15 in celebration and recognition of cultures, histories and also the contributions of American citizen. The speciality of this celebration is to give such an honor for the ancestors of citizens that came from Spain, Mexico, Central and South American and Caribbean. Hispanic has the positive effect for the country in which most of citizen committee to keep the country by hard work, faith and give the good service.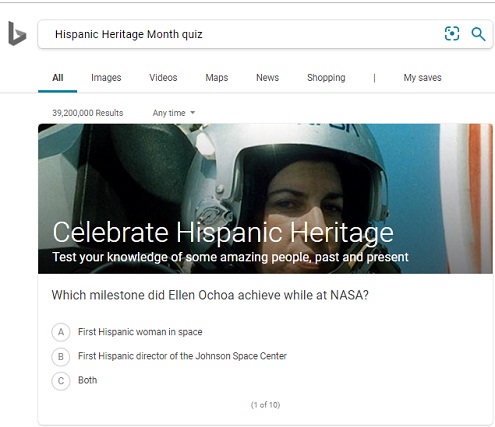 Nowadays, you are able to celebrate the Hispanic Heritage Month celebration by taking the quiz. Indeed, Bing provides the quiz that focuses on Hispanic Heritage topic. So, you will be easy to know more about the celebration. In the text below, we show you the samples of questions related to the quiz. Check it out!
1. Milestone did Ellen Ochoa achieve while at NASA?
a. First Hispanic director of the Johnson Space Center
b. First Hispanic Woman in Space
c. Both
The answer is C (Both)
2. Which type of custom car was popularized in Mexican American culture in the 1950s?
a. Hot rod
b. Lowrider
c. Monster truck
The answer is B (Lowrider)
3. Who was the first Latin American baseball player to be inducted into the Hall of Fame?
a. Juan Marichal
b. Albert Pujols
c. ROberto Clemente
The answer is C (ROberto Clemente)
4. Albert Baez, the father of folk singer Joan Baez, was a famous…
a. Singer
b. Epidomiologist
c. Physicist
The answer is C (Physicist)
5. Tex-Mex was first used as an abbreviation for which of these?
a. A style of cuisine
b. Railway
c. A brand of clothing
The answer is B (Railway)
6. Which of these actresses has been awarded for her work on both sides of the camera?
a. Sofia Vergara
b. Salma Hayek
c. Penelope Cruz
The answer is B (Salma Hayek)
7. Loreta Janeta Velazquez pretended to be which of these during the Civil War?
a. Male Soldier
b. Battlefield Surgeon
c. Wealthy Abolitionist
The answer is A (Male Soldier)
8. An official holiday was named for which celebrity?
a. Selena
b. Ricky Martin
b. Jennifer Lopez
The answer is A (Selena)
9. Which designer has been dressing first ladies of the US since the 1960s?
a. Oscar de la Renta
b. Carolina Herrera
c. Manolo Blahnik
The answer is A (Oscar de la Renta)
10. Which civil rights leader inspired Barack Obama's iconic slogan 'yes we can'?
a. Cesar Chavez
b. Reies Tijerina
c. Dolores Huerta
The asnwer is C (Dolores Huerta)
Then, you can find the format of quiz on Bing presented by any general knowledge in each category. Now, after understanding about the form of quiz, you are able to try taking the Bing Hispanic Heritage Month Quiz. To be winner and share your scores soon.