Today on Bing, there are some quizzes that you have to answer. The quizzes are related to the Emmys Awards 2019. As we know that Emmys or Emmy Award or simply Emmy is an American awards to give appreciation for excellent parties who contribute in the television industry. This award is presented at numerous annual events yearly.
For this year, the ceremony of Emmys Award was held on September 22, 2019 at Microsoft Theater in Downtown, Los Angeles, California. This event for this year is held for the programming from June 1, 2018 until May 31, 2019. Certainly, there are many a number of actress and actors both seniors and newcomers who entered into the nomination. Then, the winner of this award becomes a trending topic now.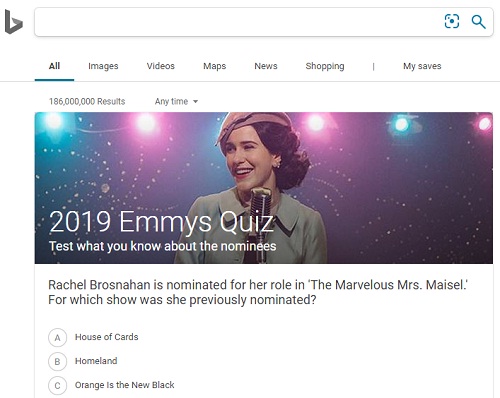 So, if you do not skip over this program and know who the winners are, definitely you can open Bing.com to get the quizzes. However, the quizzes are about the Emmys Awards that you can follow to get the answer. If you are curious how the quiz forms, here, we share for some of Bing 2019 Emmys Quiz:
1. Rachel Brosnahan is nominated for her role in 'The Marvelous Mrs. Maisel.' For which show was she previously nominated?
a. Homeland
b. House of Cards
c. Orang is the New Black
2. Which show received a record 32 nominations this year?
a. Game of Thrones
b. Chernobyl
c. Schitt's Creek
3. Eugene Levy is nominated for Lead Actor in a Comedy Series. Which popular movie series did he previously appear in?
a. The Fast and The Furious
b. The Hangover
c. American Pie
4. Which of these shows is nominated for Outstanding Reality-Competition?
a. RuPaul's Drag Race
b. Dancing with the Stars
c. Amerian Idol
5. Mandy Moore is nominated for Lead Actress in a Drama Series. Before becoming an actress, what was she?
a. A Veterinarian
b. A singer
c. A ballet dancer
6. Ava DuVernay is nominated for writing and directing which Netflix miniseries?
a. Fleabag
b. Our Planet
c. When They See Us
7. 2019 Emmys QuizTest what you know about the nominees John Oliver, who hosts 'Last Week Tonight,' which is nominated this year, also lent his voice to which Disney remake?
a. Dumbo
b. The Lion King
c. Aladdin
8. Maya Rudolph is nominated for making a guest appearance on which show?
a. The Good Place
b. Veep
c. Saturday Night Live
9. Which nominee's fashion moments became the talk of the red carpet earlier this year?
a. Beyonce
b. Billy Porter
c. Milo Ventimiglia
10. Natasha Lyonne is up for Lead Actress in a Comedy Series and which additional category?
a. Directing
b. Writing
c. Supporting Actress
11. Who is the host of this year's Emmys?
a. James Corden
b. TIffany Haddish
c. None of above
12. he "Game of Thrones" episode "The Last of the Starks" — nominated in Outstanding Directing for a Drama Series — included which modern item in a scene before it was edited out in reruns?
a. Keurig Pod
b. Paper coffee cup
c. Motorcycle
13. Which of these nominated comedy and drama series began its life as a play?
a. iPhone
b. Escape at Dannemora
c. Keurig Pod
14. "Game of Thrones" has won more Emmys than any other drama series. Then, which TV program has won Emmys at most ever?
a. Saturday Night Live
b. The Sopranos
c. MASH
15. The limited series "When They See Us" was written and directed by?
a. Shonda Rhimes
b. Dick Wolf
c. Ava DuVernay